A lovely extension table, 36 x 50 x 30h table with center opening extension slides and (2) 14 inch leaves, total open length 78 in. Designed, bespoke for a client who wanted voluptious romantic leg styles in solid oak.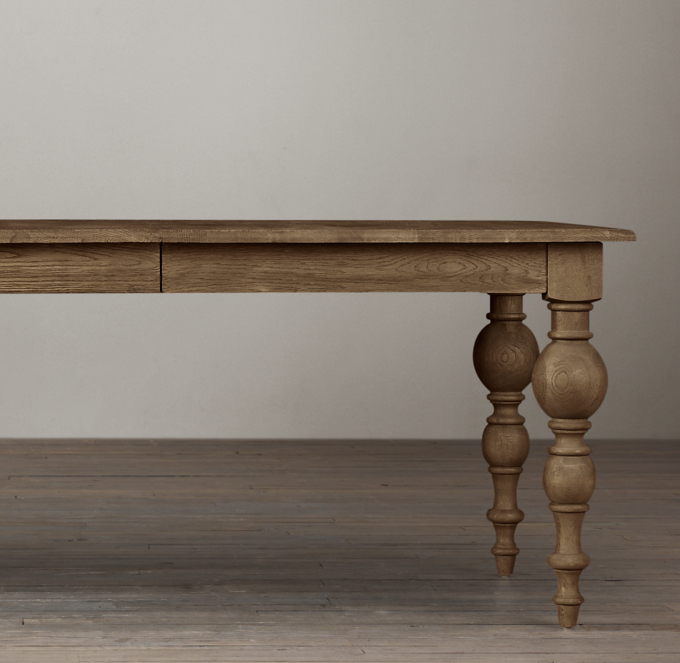 This is the "Grand Baluster dining table from Restoration Hardware." When a client first calls me, (s)he usually gives me some inspiration photo like this and asks for us to make it in a custom size or other options not provided by the manufacturer. I cannot ethically reproduce some other firm's design, nor would I want to. This is generally the beginning of a bespoke collaboration, in which I learn the client's preferences based upon conversations including lots of images. I make up my own sketches and we choose the best, and go from there. The end result is usually much more pleasing to the client than the inspiration image provided.
Here is the table closed, with no leaves in place. Chunky and solid, with a pleasing heft and shape.
Opened to its full length of 78 inches. I always love it when a client is willing to do something really bold.
The flared corner details suggested themselves, after the leg profile was decided.
Details of finish -- this table was made to mimic what an antique piece would look like. Toward that end, I included some scuffs, dings, "burns", "ink stains", discoloration, and color variation.
The resulting table will be so easy to live with. It will weather normal wear and tear beautifully and will only look better with the passage of time and use. And if the unthinkable happens - a gash, or a plant pot that leaks - the "living" finish here is the easiest possible finish to repair. Most repair work can be done in the client's home with minimum possible fuss.
In this photo it shows some of the antiquing that I used: the black spots are small burn marks, made to mimic perhaps actual cigar burns or perhaps ink spills. Remember when people used real pens? They also ate a lot of gravy and used real butter in those days. You can also see tiny cracks, and a small chip that has (long ago) broken off the flared corner.
Close view of the top. The grain is not actually white like this - it shows white because of the bazillion watts of light I have in my studio. You can see that there is quite a bit of color variation in the top, as antique piece might develop through its lifetime.
Look closely and you can see round pegs at the junctions of the boards in the top.
Corner detail.
Leg detail.